About the JoinDSO JobBoard
Interested in a career with a dental support organization?  You can search job opportunities with DSOs by geography, keyword and / or by job type.  Whether you are a dentist, dental assistant, hygienist, executive, lab tech or a manager you can find a career path with a DSO that fits you best.
All dental support organizations are different so it is important that you find the DSO that has the business and clinical philosophy that best fits your needs.  You can view different DSOs and their profiles HERE.  You can search current jobs and add your resume for free HERE OR simply set up a free private user account and receive job alerts that match your criteria.
If you'd like to speak with someone at Join DSO to help you navigate your career solutions please email us at info@joindso.com to schedule your free consultation.
Still not sure what a dental support organization is?  Click HERE to learn about DSOs and career opportunities with them.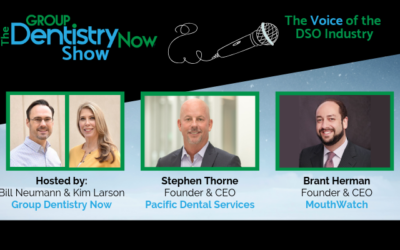 We are proud to launch our monthly video podcast series, The Group Dentistry Now Show: The Voice of the DSO Industry. Episode 1 features Stephen Thorne, CEO & Founder of Pacific Dental Services and Brant Herman, CEO & Founder of Mouthwatch. Kim Larson and Bill Neumann...